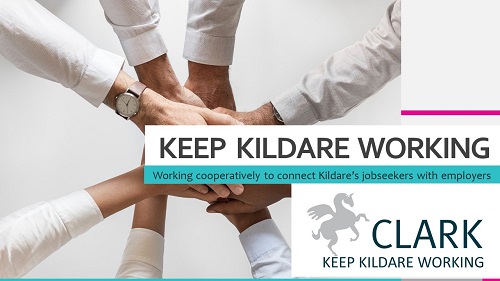 In response to this COVID-19 crisis, Clark have coordinated the Keep Kildare Working Initiative.
Working in partnership, we are bringing together local expertise and practical supports to help both employers and employees stay connected. We have developed a suite of practical guidelines and webinars for both Employers and Employees.
We are offering complimentary Career Coaching and Career Tools to job seekers and complimentary Practical HR and Business Advice to Employers.  We also want to connect Kildare based employers with the talented Kildare based workforce.
All these resources are available at:  http://www.clark.ie/services/keep-kildare-working
We'd love to hear from you so please contact us at keepkildareworking@clark.ie
This unprecedented crisis brings out the best in us.  Our creativity, our resilience and our innovation is needed now more than ever. Let's share. Let's connect. Let's keep Kildare working.
@clarkrecruit  #keepkildareworking #clarkrecruitment #careersinkildare #kildarejobs #kildare #jobs #worklifebalance #covid19 #covid19response #workingtogether #bettertogether #letsconnect #letshare