What is Purple Flag?
The Purple Flag is an accreditation similar to that of the Blue Flag for beaches, and is likened to a "gold standard" award for cities and town centres. The application process requires a comprehensive set of standards, management processes and good practice procedures to be in place with regard to town management with the award specifically focusing on the safety, appeal, movement within and management of the town between the hours of 5pm to 5am.
County Kildare Chamber, in collaboration with Kildare County Council have successfully achieved the Purple Flag for two towns in county Kildare – Maynooth and Naas.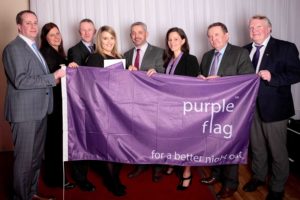 Purple Flag Maynooth
In January 2017, Maynooth was awarded with the Purple Flag, the internationally accredited award for excellence in the night-life of a town or city.  The award followed the completion of a rigorous 11 months of hard work and commitment by both the Chamber and Kildare County Council.  Businesses and community groups worked tirelessly to receive this award.  The Chamber organised a series of information meetings, workshops and site visits to ensure that every business in the town was aware of the importance of receiving this accreditation.
The award which recognises Maynooth as a 'must-visit' location is beneficial as a marketing and promotional tool, placing the town amongst a small number of towns and cities to have achieved this standard. The application which involved a thorough assessment of the town's evening and night time offering under the theme areas of Wellbeing, Movement, Appeal, Place and Policy is awarded to towns that offer a well-managed, diverse, entertaining and enjoyable evening and night out to residents and visitors to the town.
Purple Flag Naas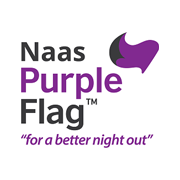 In March 2019, Naas followed Maynooth and became the second town in Kildare to receive the Purple Flag. The city's evening activity was evaluated against a number of key themes and a challenging overnight assessment was carried out.
Due to a strong application and assessment process, the annual awarding of towns and cities in Ireland and UK was held in Naas – where Naas and Cardiff took home their awards. Jennifer Forster of County Kildare Chamber said: "This is great news for Naas and this accreditation is the result of the excellent collaborative working which exists in Naas. The award demonstrates the strong and varied provision of entertainment, culture and leisure offer between the hours of 5pm and 5am which is also very well-managed, and Naas as a town of choice for a great night out. The evening and night time economy is an integral part of the Naas experience and to receive national recognition for this is an achievement we should all be extremely proud of."