Dear Member,
We are very happy to invite you as our guests to this unique learning experience for you and your team.
Originally planned to take place live in the Germany, Netherlands and London – it will now be hosted virtually by O'Kelly Sutton and our colleague Paul O'Kelly  in Ireland this year, so you now have the opportunity to take part from anywhere! It was held in Dromoland Castle, Co. Clare last year and was sold out very quickly.
Please follow the link below to secure your O'Kelly Sutton Complimentary Ticket for you and your team.
OKSCLIENT – Complementary ticket  https://www.eventbrite.co.uk/e/virtual-scale-up-summit-by-verne-harnish-tickets-128600464451?discount=OKSCLIENT
(Please contact me directly If you would to like to offer your customers discounted access to the summit – we will share a discount code with you)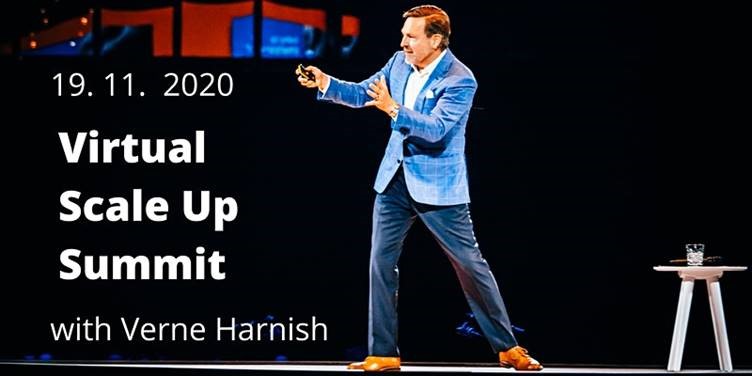 About this Event
In either good times or in a recession, every business leader faces common challenges. This interactive Summit will provide you and your team with a powerful framework and practical tools to successfully implement your growth plans as we prepare for the challenges in 2021.
This European Summit will be live-streamed in Ireland, the UK, Netherlands, Germany, Spain and other parts of Europe. It will start with an introduction from Ireland, then join the European scale up summit with Verne Harnish, and will conclude with a Q&A from Ireland.
Following on from his sell-out event in Dromoland Castle in September 2019, Verne Harnish, the author of Scaling Up and Mastering the Rockefeller Habits will be leading the Summit, where you and your team will work through some key exercises that are designed to have you and your team totally focused on the year ahead.
This is not your 'typical' virtual event where you sit back, listen, and watch…you and your team will also be getting to work!
Verne will be Focusing on the Four Priorities that any organisation needs to master in order to successful Scale Up.
For each priority he will be taking you through the theory and the Scaling Up tools, provide you with the latest case studies and then challenge your team to work through an exercise together.
The 4P's to give you and your team the Edge.
PEOPLE: The importance of Agile leadership in times of crisis.
Team exercise: Love and Loathe! Energy Management v Time Management. The importance of aligning your team to the areas that give them energy and motivation.
PROMISE (STRATEGY): Discover how to take advantage of local and global trends with your core strengths and weaknesses
Team exercise: In challenging time it is more important than ever to have a clear Brand Promise that resonates with Consumers / Customers.
PRICING (CASH):Exploring the theory of pricing and then having the teams, including the Good, Better, Best pricing model.
Team exercise: Learn how to move your business model to Up Front Pricing and the massive impact that it can have on your cashflow.
PROCESSES (EXECUTION): Improve efficiencies to beat your competition and adapt to current conditions and get back 80% of your time for strategic work.
Team exercise: Review your Core Processes and provide some hacks on how to reduce the day to day drama of running your business.
Patrick Sutton FCCA | Managing Partner
O'KellySutton, Scarton House, Priory Court, Kildare, Co. Kildare, R51 TP68, Ireland
Tel: 00353 45 530777   Mob: 00353 86 2523637   Web: www.okellysutton.ie