Project SEARCH is changing lives for young people with Intellectual Disabilities by helping them get great jobs.
Project Search and Naas General Hospital are giving the opportunity of work experience to transform the employment prospects of young people with intellectual disabilities.
Project SEARCH – Naas General Hospital programme was established in 2013 and is providing trainees with a 10 month work experience programme for people with Intellectual Disabilities. There are 700 sites worldwide and we are the first in Ireland.
The trainees are based full-time at the Naas General Hospital and have three department rotations throughout the 10-months as they gain transferable skills and study for QQI qualification with support from KWETB.
The programme also includes a two onsite coordinators from KARE, who teach and support the trainees in making a successful transition from training into meaningful employment.
2019 was a huge year for us,
We received a 90% Employment Outcomes award for the graduates of 2018.
We won a nationally recognised training award from the prestigious IITD (Irish Institute of Training & Development) for the" Best Diversity and Inclusive Initiative 2019″.
Shortlisted for the Diversity and Inclusion Award category with the Kildare Chamberof Commerce!!!
We launched the first Reverse Jobs fair in Ireland for people with Intellectual Disabilities in the Osprey Hotel which was a huge success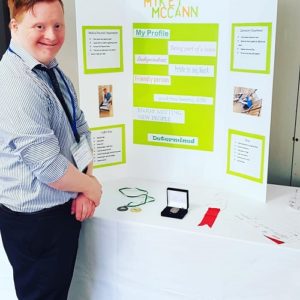 This year the Project SEARCH Reverse Jobs Fair will be held in the Osprey Hotel on the 26th March 10.30 -1pm. We are delighted to invite you all to come and meet the trainees at the reverse job fair. This is your opportunity to tap into a hidden talent pool and see the competitive and transferable job skills the trainees have to offer your business.
It is also a great opportunity to find out about the supports KARE provides to employers to create a more diverse workforce while also showing you the employment service available e.g. Job Coach (onsite support). We will have ambassadors on the day to talk to you about government incentives such as the wage subsidy scheme while also improving CSR.
Companies who have linked with us are experiencing the transformative benefits from engaging in our programme and KARE supported employment service, gaining access to a new diverse, talented workforce with skills that match's your labour needs.
Pic: Mike McCann attended RJF 2019 and is now employed with Applegreen
If you would like to find out more information our email address is projectsearch@kare.ie