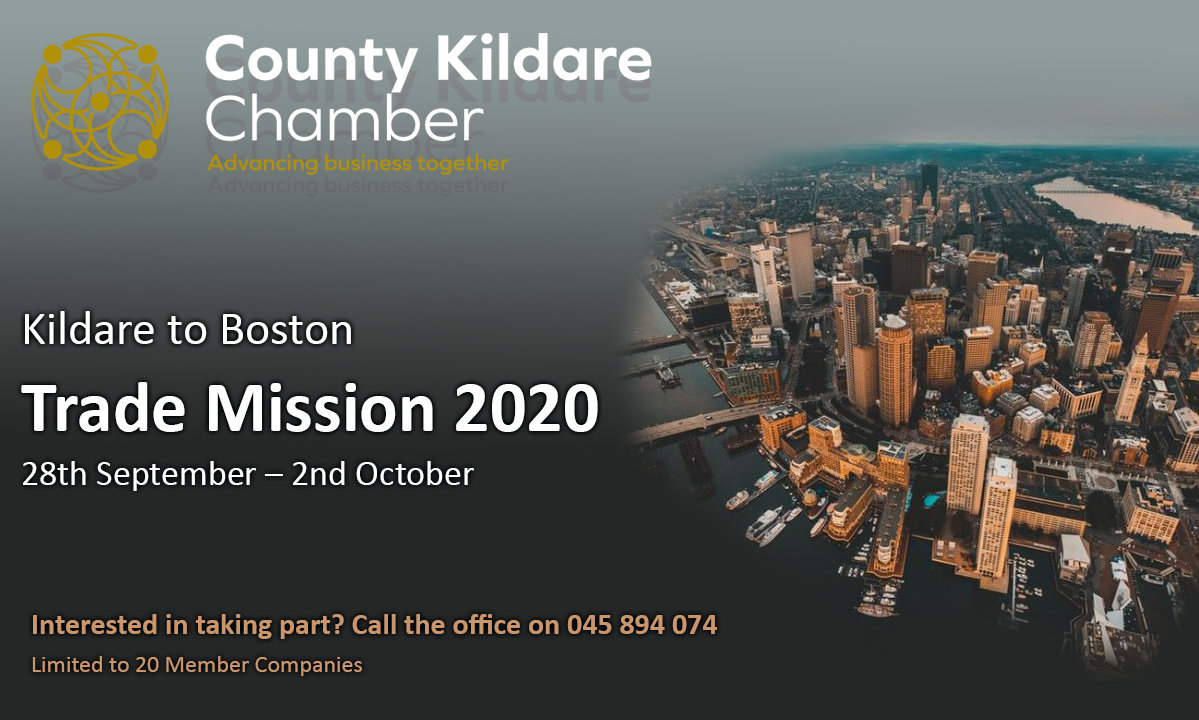 In advance of the County Kildare Chamber Trade Mission to Boston in September, we are in Boston in February attending functions and meeting with key stakeholders in the city
Boston visit February 2020
Purpose
To continue to promote Kildare as the location of choice for potential business enterprise seeking a HQ in Ireland and to build and develop the relationships we have in Boston in advance of our trade mission in September. We also aim to support businesses looking to break into the US market
Our Schedule
Tuesday 4th Feb (Arriving 2pm)
Meeting Jon Mahony (https://mahoneygroup.net/ ) to review the work Jon did with our companies that visited Boston in October 2019 and to further develop links with the Kildare Diaspora in Boston
Wednesday 5th Feb
Meeting Boston Chamber on Wednesday to advance discussions on the signing of a Memorandum of Understanding between both Chamber's.
Areas within the draft MOU that we are discussing are
The two parties shall encourage, promote and facilitate effective cooperation in relation to trade, economic and industrial activities;
The two parties shall exchange visits of delegations for the purpose of activating relationships and expanding trade cooperation between their members, they will provide assistance to each other on trade meetings, project seminars and exhibitions.
The two parties shall develop appropriate means to facilitate networking among their respective membership and to circulate information on business and economic opportunities available in the jurisdiction of their respective organisations.
The two parties shall assist their members to overcome the difficulties that may arise from trade and exchange operations.
Meeting with Boston College to advance education links between Kildare and Boston, Boston College have offices in Dublin so there is the potential of an excellent working relationship going forward. The College attended our Diaspora dinner in Oct' 19
Meeting with the Board of the Boston Irish Business Association which will further enhance the relationship we have with them. www.bibaboston.com
Network evening with Boston Irish Business Association members
Thursday 6th Feb
Meeting with Clodagh Boyle VP of Development with The Irish American Partnership https://www.irishap.org/
Meeting with Consul General of The Irish Consulate Laoise Moore. The Consulate are very good supporters and promoters of our activities in Boston. Consulate Website
Meeting with The Cashman Family (Owners of Kilkea Castle) Jay and Jacklyn are heavily invested in promoting Kildare in Boston
Meeting with Aidan Browne, Partner with Sullivan Worcester Law Firm. Aidan's BIO
Friday 7th Feb (Departing 6pm)
Attending the First Friday Network Morning in The Irish Consulate on Friday. The First Friday network morning is attended by Irish Businesses in Boston
Meeting with IDA Ireland to further our excellent working relationship with IDA
Meeting with CEO of Quincy Chamber Tim Cahill . Our delegation last year visited Quincy and we are looking forward to welcoming a delegation from Quincy visit Kildare in March.
Members
Interested in joining our Boston Trade Mission in September ? Places are limited as we will bring a maximum of 20 businesses this year. Contact the office for more details