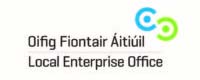 Brexit Business Briefing : Build on what you know, plan for what you don't . . . .
Kildare Local Enterprise Board in Association with Enterprise Ireland is supporting business owners to continue growing their business against a backdrop of uncertainty as the terms of the UK's new relationship with Europe evolves specifically that between Northern Ireland and Ireland.
As part of this support we are holding a FREE briefing where Michael Moroney, Mid East Regional  Director of Enterprise Ireland  will share advice and information to help you prepare for new trading relationships that emerge from BREXIT negotiations.
This free event will focus on some of the questions you may already have on business planning, currency hedging, innovation, and diversification and building cross-border relationships.
The event will directly be followed by the announcement of the Winner of  LEO Kildare's Enterprise Award by Michael Moroney and Peter Carey CEO Kildare County Council .
If you want to get your business Brexit ready come join us in Aras Chill Dara, Devoy Park,  Naas County Kildare .on Thursday 9th March .Registration 9.00 -11.30 am  light refreshments served .
Booking is essential by  logging on to : https://www.localenterprise.ie/Kildare/