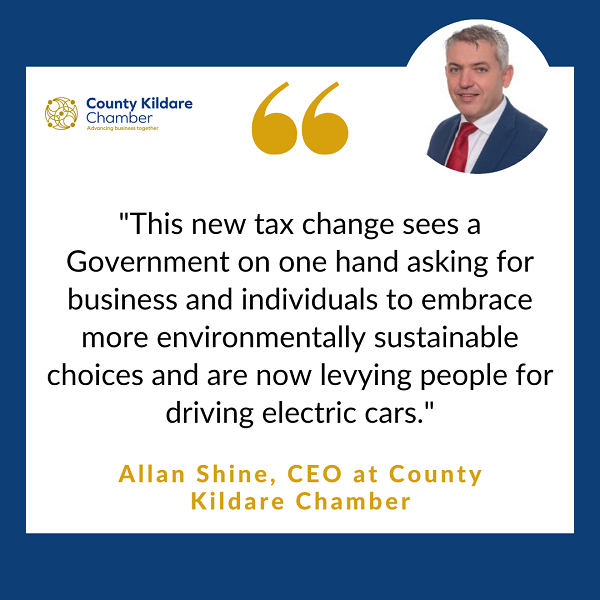 Business Chief calls on the Government to defer company car BIK increase – Already overburdened employees to get nasty shock later this month Employees with company vehicles to be hit with an additional €300 cost per month Government needs to rethink and get rid of pointless BIK tax on electric company cars to help efforts combatting climate change.
Tuesday 17th January 2023
The CEO of one of country's biggest business representative organisations is warning thousands of businesses their many of their employees are in for a nasty shock when they are paid later this month and is calling on the Government to defer what will be a crippling tax on already overburdened workers. Government needs to rethink and get rid of what is a pointless Benefit in Kind tax (BIK) on electric company cars and help thousands of businesses increase their sustainability and assist the State's efforts to combat climate change.
County Kildare Chamber CEO Allan Shine who runs the organisation which represents over 400 companies employing over 42,000 people said "Later this month thousands of employees around the country, many of whom are on modest incomes, who have a company car for work will be hit with a huge Benefit In Kind tax hike. Over a third of our membership (34%) in Kildare which is indicative of the rest of the country employ people with company vans and cars.  This unnecessary new levy will severely hurt employees with their net take home pay. The average employee will see a reduction in their pay packet of approximately €300 per month and that is not good news at all for those that drive the approximately 150,000 company cars in use on Irish roads countrywide."
"One of our members with a fleet of 28 company cars and vans, has contacted me and is outraged that after investing over €400,000 in updating his car stock to electric vehicles, this decision will now result in a government levy on his employees of nearly €300 each monthly. This new tax change sees a Government on one hand asking for business and individuals to embrace more environmentally sustainable choices and are now levying people for driving electric cars. We are in a unique situation where the availability of not just Electric Vehicles but all vehicles is extremely low due to supply chain issues and a global chip shortage. We are one of the biggest business organisations in the country and the largest in the entire Mid-East region and we are calling on the Government to get rid of this pointless BIK tax on electric vehicles, it makes no sense at all during a time of climate crisis. This is a further disincentive for fleet drivers, who have a requirement to drive as part of their work and this tax penalty is the wrong thing to do right now when there is a cost of living crisis," he continued.
The changes by Government mean that from January, the calculation for Benefit in Kind will be a combination of milage and CO2 emissions. This is meant to promote the increased use of electric vehicles in a company's fleet, and the move away from combustion engines, in line with the Governments Climate Action Plan 2030. However, from this year the 0% BIK on electric vehicles with an Original Market Value of less than €50,000 is to be phased out over a four-year period. The €50,000 OMV which currently sees 30% on cars above that threshold is also to be progressively reduced over this same period. Electric and hybrid cars accounted for over 42% of all new car sales in Ireland in 2022, outselling either petrol or diesel rivals. New car registrations ro 0.3% last year with 105,253 sales. This shows that individual buyers are choosing more sustainable personal transport models.
Benefit in Kind is a tax on benefits that an employee receives that cannot be converted into cash but have a cash value. An employee is liable to pay income, USC and PRSI on the value of the benefit, which is typically the provision of a car for work.