Kildare Local Community Development Committee (LCDC) ¦ Mairead Hennessey, Founder & MD Taxkey and Chamber VP of County Kildare Chamber
As part of the Local Government Reform Act 2014, Local Community Development Committees (LCDCs) were set up in each Local Authority area. The aim of LCDCs is to enhance the strategic planning and coordination of local and community development activity. These committees use the expertise and experience of public and private leaders in the community to provide effective and efficient services, especially to those most in need of those services.
The purpose of the LCDC is as follows:
Co-ordinating, planning and overseeing local and community development funding
Bringing a more joined-up approach to the running of local and community development programmes and interventions
Pursuing an integrated approach to local community-based services across providers and delivery structures
Promoting meaningful citizen and community engagement in the planning and evaluation of development programmes
Pursuing a more cost-efficient administration of local and community development programmes and delivery structures
Matching resources to priorities
Ensuring better value for money in the management and delivery of programmes
Focusing on learning and feedback, enhancing the links between services delivery and policy development
Pursuing opportunities for additional funding for the area, whether exchequer, EU, private or other sources.
A key function of the LCDCs is to prepare the community elements of 6-year Local Economic and Community Plans (LECPs).
The purpose of the plan is to promote the local and community development of each local authority area. This is done through a coordinated approach to planning and service delivery. View the Kildare LCDC website at www.kildarelcdc.ie and the LECP at www.kildarelcdc.ie/publications-links/
The LCDCs are composed of statutory and non-statutory representatives. Kildare LCDC has 19 members who work collaboratively to progress work to address key priorities for communities across Kildare. Since the establishment of the LCDC six and a half years ago, County Kildare Chamber of Commerce has been represented on Kildare LCDC. Some of the key outcomes achieved since 2014 include:
Social Inclusion Community Activation Programme (SICAP):
Overseeing a range of initiatives targeting the most disadvantaged communities and groups across the county. The budget for SICAP is circa €1.1m annually.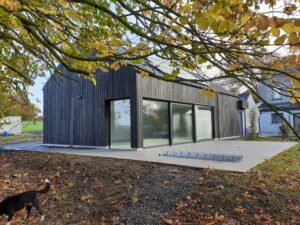 The owners of Hartwell Creative Retreat was supported through LEADER funding to diversify traditional farming activity to establish a bespoke health and wellbeing centre in the county.
LEADER:
Overseeing the EU Rural Development Programme to provide grant aid support to a range of enterprise, community and environmental initiatives across the county. The current LEADER programme is coming to an end with a total budget of €5.2m allocated 2014-2020. Sixty-Six projects have received LEADER grant aid, with 38 (58%) funded under the Economic/Enterprise and Job Creation theme.
A new transitional programme was announced in late December and is making €358,745 in grant aid available for new projects. County Kildare Chamber of Commerce are represented on the LCDC sub- group and there are opportunities for economic development and enterprise supports in 2021 under the transitional programme.  Further details will be circulated to Chamber members in the coming weeks.
Healthy Ireland
Kildare LCDC is currently overseeing the third Healthy Ireland Programme in the county. It has been allocated €374,100 from the Department of Health to oversee a range of health and wellbeing initiatives across the county. County Kildare Chamber members have actively participated in this initiative in the past.
Community Enhancement Programme
Grants to support small scale capital costs for community and voluntary groups are funded under this programme. In 2020 thirty-two groups from across the county availed of grants totalling €247,000 .
Data Analysis
Kildare LCDC have worked closely with AIRO in Maynooth University to gather and analyse data to help decision making.
Service Development
A key role of Kildare LCDC has been to support the establishment and expansion of services in Kildare. An example of progress made in recent years includes: the establishment of HeadsUp a programme working with men with mental health issues, two new Family Resource Centres in Kildare Town and Athy, a new Youth Officer post within the ETB, increased services for homeless people through collaborations between KCC, McVerry Trust and Tusla, prioritisation of ACDAL as a centre for enterprise in North West Kildare. In 2021 work is focussed on progressing services targeting youth mental health including a Jigsaw project.
Covid 19- Community Response
The LCDC forms the basis for the Community Response Forum, a network of over 60 representatives who are working together to respond to issues that exist due to the Covid 19 pandemic. County Kildare Chamber are actively involved in this Forum.
If a member would like to find out more about Kildare LCDC and our representation on the board, please contact our representative Mairead Hennessey (VP County Kildare Chamber) via email mairead@taxkey.ie.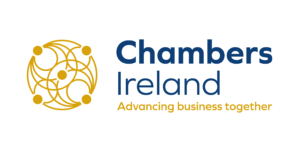 Chambers Ireland Board member and Director ¦ Allan Shine, CEO County Kildare Chamber
Chambers Ireland's mission is to represent the interests of member companies; to promote business competitiveness in Ireland and to enable the development of the chamber movement throughout the island. Its main areas of activities are as follows:
Lobbying Government on policy to create a better environment for business
Supporting SMEs
Facilitating trade
Strengthening the Chamber Network
The board meets bi monthly. View the current board HERE. Chambers Ireland is Ireland's largest business network on the island of Ireland. It is the umbrella group for local affiliated chambers. In achieving its policy goals, Chambers Ireland has secured representation on a number of external boards where they push the interests of their members and highlight challenges to businesses. The list below outlines the key forums in which Chambers Ireland are currently represented:
National Economic and Social Council (NESC)
National Competitiveness Council (NCCC)
High Level Group on Business Regulation (HLG)
Advisory Group on Small Business (AGSB
Office of Government Procurement
Retail Consultation Forum
Working Group on Retail and Town Centre Revival
Dept of Taoiseach Group on Brexit
CSR Stakeholder Forum
European Economic and Social Committee (EESC)
DJEI Prompt Payment Committee
Skillnet Ireland
If a member would like to find out more about Chambers Ireland and our representation on the board of Chambers Ireland please contact Allan Shine 045 894074 or via email allan@countykildarechamber.ie