KCC Community & Culture SPC – Maureen Bergin, Community & Business Relations Director at Kildare Village.
The SPC has a very defined list of works which include:
1                     Kildare Sports Partnership ¦ Strategic Plan
2                     Kildare Age Friendly ¦ County Strategy
3                     Kildare Local Community Development Committee (LCDC)  Local Economic and Community Plan
Healthy Ireland
4                     Arts ¦ Arts Strategy
5                     Libraries ¦ Open Libraries Plan
Library Development Plan
Decade of Commemoration
6                     Creative Ireland ¦ Kildare Culture & Creativity Strategy
7                     Integration  Traveller / Roma Strategy
Integration Strategy
Diversity Strategy
8                     Twinning ¦ Twinning Policy
9                     Parks Department ¦ Pollinator Friendly Grass Maintenance Strategy
Play Strategy
Tree Policy (stalled – need resources)
Open Space Policy w/ Planning Dept. (base mapping stage and brief for strategy developed)
10                   Community Department Grants Team ¦ Community Guidelines only
Festival Guidelines only
Local Authority Residents' Associations Guidelines only
Private Residents' Associations Guidelines only
Education Bursaries Guidelines only
House Alarm (Athy) Guidelines only
11                   Pride of Place ¦ National competition
County Kildare Chamber Policy Council
The Chamber are creating a new  Policy Council is composed of member interested in actively contributing to the success of our lobbying. The Council meets 4 times per year, agreeing priorities and formalising working groups to develop specific topics for advocacy work. Its aims to be impactful, output driven and outcome focused.
The Chamber is represented on several boards/committees and forums both locally, regionally, nationally and internationally.
Chambers Ireland Board
International Chamber of Commerce
Taxation Council
Chambers Ireland Workforce Council
Maynooth University Advisory Board
Kildare LCDC
Kildare Economic Forum
Kildare Leader Programme
Kildare SPC's x 5
County Kildare Community Network
Kildare Economic Forum
Mid East Regional Enterprise Plan
Mid East Regional Skills Forum
ACDAL
The Policy Council will guide the Chamber on our lobbying activities in relation to:
Pre Budget Submission
County Development Plan
National Development Plan
Regional Spatial Strategy Plans
Eirgrid/Broadband/Irish Water/DAA relationships and policy issues
Government and Chamber Ireland requests for submissions
The Council will be briefed regularly on our lobbying activities in advance of meetings.
Council will be represented by key members in each municipal district of Kildare, chaired by Chamber CEO and the President of the Chamber will also sit on the council.  Representatives will be members of the Chamber and will represent businesses across a broad sector base.
Expressions of interest to join the Council or more information – Allan Shine allan@countykildarechamber.ie
Maynooth University School of Business Advisory Council
Represented by: Allan Shine, CEO County Kildare Chamber
The primary purpose of the School of Business Industry Advisory Council is to advise the Head of School and the University on how the School of Business can deepen its impact for students and industry. The University are seeking to ensure that their students have a rich experience of how industry works, and the opportunity to apply what they learn to real-world contexts, so they are better prepared for today's world of work.
It is also seeking to understand how they may better serve the needs of their alumni and industry partners for career journeys and employment needs. Part of the Chamber's role is to focus on our entrepreneurial drive and global experience. This council will play a valuable role by helping to shape the School's strategy for the future.
See the advisory council here: Advisory Council
MERITS (Mid East Regional Innovation Thinkspace)
Represented by: Allan Shine, CEO County Kildare Chamber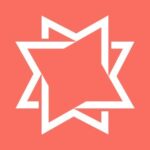 The Mid East Regional Innovation Think Space (MERITS) located in Naas County Kildare is a new build project to cluster Irish and international new-technology companies and provide them with mentorship and support, including the provision of co-working and office space for up to 100 people. The project is supported by strong collaboration with Kildare County Council, Maynooth University/ MaynoothWorks, County Kildare Chamber and the three Mid East LEOs (Kildare, Meath & Wicklow.
County Kildare Leader Partnership
Represented by: Noel Dempsey (The Dooley Insurance Group)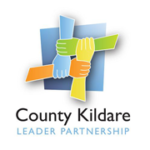 Noel Dempsey (Dooley Insurances) represents the Chamber on the board of CKLP.  CKLP are responsible for the delivery of a range of Rural, Enterprise, Social Inclusion and Community Development Initiatives in County Kildare. For more details on CKLP, visit their website HERE or contact Noel noel@dooleyinsurances.com
Mid East Regional Skills Forum
Represented by: Allan Shine, CEO County Kildare Chamber

Objectives 2021
Provide a cohesive structure for employers and the further and higher education system to work together in building the skills needs of the region
Help employers better understand and access the full range of services available across the education and training system
Enhance links between education and training providers in planning and delivering programmes, reduce duplication and inform national funding decisions
Facilitate the involvement of enterprise stakeholders in a collaborative framework with education and training partners in the identification, development and delivery of skills development responses
Actively promote the activities and achievements of the Regional Skills Forum
Members of the forum meet  on a quarterly basis to develop plans for each sector in collaboration with key industry bodies which ensures our focus remains on skills and development of the region through collaboration and meaningful engagement.  Members include County Kildare Chamber, Maynooth University, KWETB, Enterprise Ireland and IDA Ireland
For more details contact Allan allan@countykildarechamber.ie
ACDAL (Allenwood Community Development Association LTD)
Represented by: Allan Shine, CEO County Kildare Chamber 

Located on 44 acres, 20 acres of which so far has been developed, Allenwood Community Development Association CLG, also known as ACDAL is a Social Enterprise, with charity status in Allenwood, North Kildare.
ACDAL's primary business activities include the provision of flexible discounted space in the form of light industrial units, office space, a remote working facility, the delivery and facilitation of training, and an award-winning purpose-built community childcare service.
History
ACDAL was created in 1994 following the closure of the Allenwood Bord Na Mona ESB generation station, which opened in 1952, expanding the early national grid and providing major employment in the locality until its decommissioning in 1993. The land was subsequently gifted by the ESB to the local community, with the aim to promote local enterprise, training and job creation. This continues to be the organisation's mission today.
Enterprise and Employment
ACDAL is the workplace for approximately 75 people, with an additional 80 on Community Employment placement.
The light industrial units within the park and incubation space / offices within the centre are rented out to start-up businesses at a discounted rate.
ACDAL is also home to a number of well-established, anchor tenants such as 'Dana Brevini Ireland' and 'Labplan'. Before establishing itself as a leader in the Irish laboratory market and transitioning to one of ACDAL's industrial unit's/office suites. Labplan operated as a partnership start-up, housed in a small office within the main building. Now it employs 12 members of staff and plans to recruit an additional 2 staff in the near future.
ACDAL has recently secured funding from the Just Transition Fund which will enable the unlocking of a greenfield site and the development of approximately 8 acres for the establishment of new businesses. We envisage that the development of sites will facilitate the establishment of up to 16 new/relocating enterprises with the potential to create up to 160 new jobs.
Our intention is to promote the campus for green entrepreneurship and activity, (but it will not be exclusively used for this purpose).
More information can be found on www.acdal.ie or by contacting Allan allan@countykildarechamber.ie
Kildare SPC's ¦ Transport Strategic Policy Committee
Represented by: Brian Purcell (Big Picture Communications)
It is the task of the Strategic Policy Committees (SPCs), as committees of the council, to advise and assist the council in the formulation, development and review of policy. They have no remit in relation to routine operational matters regarding the delivery of services. In the case of the Transportation, Safety and Emergency Services SPC of which I am a member there is a Proposed Agreed Work Programme for 2020/2021 in place and despite the fact we cannot interfere with operational matters we can outline any concerns we have that might affect business in the county or constructively engage re same and offer proactive and positive pointers that will benefit both the wider business community and thence society in the county e.g. the wider picture where we can make Kildare a more desirable place to live in and attract in more workers and facilities for their families which in turn helps attract in the likes of more multinationals and better environments and transport infrastructure for our SMEs to work in as well as better pathways to the airport and dockland facilities in Dublin.
The work programme includes the following as an example;
Greenways & Blueway's -Focus on Royal and Grand Canal Greenways and Barrow Blueway to a high-quality standard plan amenity to make them into thriving connections and tourist destinations.
Electric Vehicles – Policy on Electric Vehicles in relation to free parking
Transport links -Policy and Planning on effective transport links across towns in Kildare.
Rail Network- Policy on Integrating rail planning into County Developments Planning including appropriate park and ride.
Bus Services – Policy on increasing capacity and identify express bus routes of support commuters through working with the NTA, Bus Eireann and Dublin Bus.
Road Network and Congestion- Focus on road developments that allow us to reclaim our town centres, develop town centre, communities, vibrant main street and reduce congestion and pollution in our towns.
Permeability- Policy on connecting our communities for good pedestrian and cycling access and connectivity right through our towns.
The County Council have also undertaken an enormous work programme on roads and transport infrastructure and some of the main example are as follows and this is led by the Sallins bypass from the M7 which is now due to be completed by May 2021;
Athy Distributor Road
A new 3.4 km road (including 2 bridges) with enhanced pedestrian and cycling facilities to by-pass Athy and relieve the chronic traffic congestion in the town centre.
Newhall Junction Improvement Scheme
A safety Improvement Scheme for the Newhall crossroads junction on the busy R445 regional dual carriageway between Naas and Newbridge.
Kildare Transport Strategy
A Strategy to facilitate the effective integration of future land use / development with road network improvements and sustainable transportation initiatives including walking, cycling and public transport in Kildare Town.
Kildare Town Northern Link Road and South Green Area Access Improvement Scheme
The Kildare Town Northern Link aims to provide an alternative access to the M7 and Kildare Train Station without the need to travel through Kildare Town centre, reducing the number of vehicle trips via the historic centre and alleviating overall traffic congestion.
Naas / Sallins Transport Strategy
A Strategy to facilitate the effective integration of future land use / development with road network improvements and sustainable transportation initiatives including walking, cycling and public transport in Naas
Royal Canal Greenway – Maynooth to Moyvalley
The Royal Canal Greenway is a 130 km dedicated and substantially off-road cycling and walking route along the Royal Canal. This project covered a section of the Greenway between Maynooth to Moyvalley.
Maynooth Eastern Ring Road – MERR
The Maynooth Eastern Ring Road Scheme is a LIHAF (Local Infrastructure Housing Activation Fund) Scheme to the east of Maynooth, to service zoned lands, to facilitate the development of over 800 housing units with high levels of affordability / reduced selling prices.
The scheme will comprise 1.5 km of new single carriageway ring road with a  7 m carriageway width and segregated cycle tracks and footpaths, linking the R148 Leixlip Road and the R405 Celbridge Road and crossing the Royal Canal and the Dublin to Sligo railway line.
Maynooth North South Corridor Improvement Scheme – Phase 6 – Moyglare Road
The Maynooth North South Corridor Improvement Scheme is a 3 km road improvement scheme with cycle tracks and footpaths, starting north of the Maynooth M4 Interchange at Meadowbrook Junction along Straffan Road, through the town centre and finishing on the Moyglare Road at the new School Campus. Phase 6 of the corridor is the Moyglare Road section.
Celbridge to Hazelhatch Link Road Scheme (Second Bridge)
The scheme is to improve connectivity between Celbridge town and the Hazelhatch train station (including a Second Liffey Bridge in Celbridge), to remove unnecessary through traffic from Celbridge town centre, to improve facilities for vulnerable road users and to enable the development of Key Development Areas (KDAs) in Celbridge.
Kildare Economic Forum
Represented by: Allan Shine, CEO County Kildare Chamber
The Economic Forum comprises of a mix of business leaders and local government who meet regularly to discuss the economic activity within County Kildare. The forum is chaired by Padraig McManus.
The forum has produced a Draft Economic Strategy for the county 2021-2025 which will be published in Q1 2021.
The Kildare 2025 Economic Development Strategy has been prepared to frame a longer-term vision for County Kildare. To coincide with the National Planning framework (NPF) Project Ireland 2040, the intent is to produce five-year strategic plans to guide economic development and investment up to 2040 commencing with this period up to 2025.
Kildare 2025 is crafted in the context of major challenges – the COVID-19 pandemic and recession, Brexit and climate change.  It has never been more important to plan ahead and set out a roadmap for a resilient, sustainable economy.  The Kildare 2025 focus is on a smart recovery based on entrepreneurship and investment, climate action and exploiting new opportunities.
While it is vital our Strategy is aligned to all national and regional policies , it is crafted in anticipation of the forthcoming National Economic Plan which will set the priorities and objectives for Ireland's medium-term economic recovery, setting out a roadmap for a resilient, sustainable economy with three key themes:-
Building Resilience across Enterprise and Sectors
An Inclusive and Balanced Recovery and
Future Proofing our Economy and Society.
Kildare 2025 sets out high level objectives under 8 key FOCUS AREAS.   With continuing rapid growth, Kildare is the fifth highest populated county in Ireland (a current population of 222,504 in the 2016 census), and our strategic location in the Mid-East Region is a major advantage.  The county's proximity to Dublin presents both opportunities from an economic, social and environmental perspective but equally many challenges.
Kildare 2025 In Context 
Foreign Direct Investment: Kildare has the second highest rate of FDI nationally.  It's estimated that 20% of all private sector employment in the State is directly or indirectly attributable to FDI.  Kildare's ability to attract and retain FDI is central to our economic stability and success.  Kildare is marketed as part of the three counties of the Mid-East region with the key FDI sectors represented in the county include technology, financial services and pharmaceuticals with Intel, Hewlett Packard Enterprise, Pfizer, P&G, IFS State Street choosing to invest in Kildare.
SME: The SME and micro-enterprise sector represents approximately 92% of all active business in Kildare. Evidence from the 2008-2009 recession highlights that small business creation was the key driver in the economic recovery, creating the majority of new jobs However, revenues have fallen for the vast majority of small and medium-size enterprises in Europe since the onset of the COVID-19 crisis. Exploiting new opportunities, notably in the green, equine, food and knowledge economies, will be a key focus of our Kildare 2025 actions.
Commuter: 40% of Kildare's work-force commute for work purposes outside the county.  One of the key challenges of this strategy will be to work towards reversing this percentage in the context of the future of work changes.  We are living in an era of fundamental transformation in the way we work. Exploiting new opportunities for the future of work blend of HUB- HOME- HQ will be a key focus of our Kildare 2025 actions.
Transport: Kildare's improving transport infrastructure has resulted in easy access to Dublin's International Airport and Dublin Port.    Artery development is a factor – industrial and economic development has spread radially from Dublin city along the three primary motorway corridors i.e. M4, M7 and M9.
Broadband:    While many urban areas in Kildare enjoy excellent high-speed broadband coverage, the National Broadband Plan estimates that of the 92,235 premises in Kildare, state intervention in needed to provide broadband to almost 29,000 properties.  The improvement of Broadband Infrastructure is also extremely important to the sustainable development of Co. Kildare.
Education: The Mid-East Skills Forum provides a cohesive structure for our further and higher education system to work together with employers in building the skills needs of the region. Maynooth University is a distinctive and important component of the Irish higher education system.  The University is a key partner of Kildare County Council and it is essential that this economic strategy fosters a growing engagement to deliver innovative impacts for enterprise and the local economy.  Our Education and Training Board is at the heart of recovery and nurturing the skills needed for the future.
Tourism: While County Kildare has a rich and diverse heritage and much to offer as a destination, the County has underperformed in tourism.  Accordingly, Kildare 2025 places a strong emphasis on supporting the work of Kildare Fáilte, the trade and relevant agencies
For more details on our work on The Kildare Economic Forum our representative is Allan Shine allan@countykildarechamber.ie

Kildare Local Community Development Committee (LCDC)
Represented by Mairead Hennessey (Taxkey) and Chamber VP 
As part of the Local Government Reform Act 2014, Local Community Development Committees (LCDCs) were set up in each Local Authority area. The aim of LCDCs is to enhance the strategic planning and coordination of local and community development activity. These committees use the expertise and experience of public and private leaders in the community to provide effective and efficient services, especially to those most in need of those services.
The purpose of the LCDC is as follows:
Co-ordinating, planning and overseeing local and community development funding
Bringing a more joined-up approach to the running of local and community development programmes and interventions
Pursuing an integrated approach to local community-based services across providers and delivery structures
Promoting meaningful citizen and community engagement in the planning and evaluation of development programmes
Pursuing a more cost-efficient administration of local and community development programmes and delivery structures
Matching resources to priorities
Ensuring better value for money in the management and delivery of programmes
Focusing on learning and feedback, enhancing the links between services delivery and policy development
Pursuing opportunities for additional funding for the area, whether exchequer, EU, private or other sources.
A key function of the LCDCs is to prepare the community elements of 6-year Local Economic and Community Plans (LECPs).
The purpose of the plan is to promote the local and community development of each local authority area. This is done through a coordinated approach to planning and service delivery. View the Kildare LCDC website at www.kildarelcdc.ie and the LECP at www.kildarelcdc.ie/publications-links/
The LCDCs are composed of statutory and non-statutory representatives. Kildare LCDC has 19 members who work collaboratively to progress work to address key priorities for communities across Kildare. Since the establishment of the LCDC six and a half years ago, County Kildare Chamber of Commerce has been represented on Kildare LCDC. Some of the key outcomes achieved since 2014 include:
Social Inclusion Community Activation Programme (SICAP):
Overseeing a range of initiatives targeting the most disadvantaged communities and groups across the county. The budget for SICAP is circa €1.1m annually.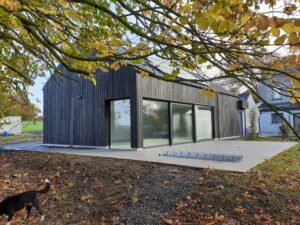 The owners of Hartwell Creative Retreat was supported through LEADER funding to diversify traditional farming activity to establish a bespoke health and wellbeing centre in the county.
LEADER:
Overseeing the EU Rural Development Programme to provide grant aid support to a range of enterprise, community and environmental initiatives across the county. The current LEADER programme is coming to an end with a total budget of €5.2m allocated 2014-2020. Sixty-Six projects have received LEADER grant aid, with 38 (58%) funded under the Economic/Enterprise and Job Creation theme.
A new transitional programme was announced in late December and is making €358,745 in grant aid available for new projects. County Kildare Chamber of Commerce are represented on the LCDC sub- group and there are opportunities for economic development and enterprise supports in 2021 under the transitional programme.  Further details will be circulated to Chamber members in the coming weeks.
Healthy Ireland
Kildare LCDC is currently overseeing the third Healthy Ireland Programme in the county. It has been allocated €374,100 from the Department of Health to oversee a range of health and wellbeing initiatives across the county. County Kildare Chamber members have actively participated in this initiative in the past.
Community Enhancement Programme
Grants to support small scale capital costs for community and voluntary groups are funded under this programme. In 2020 thirty-two groups from across the county availed of grants totalling €247,000 .
Data Analysis
Kildare LCDC have worked closely with AIRO in Maynooth University to gather and analyse data to help decision making.
Service Development
A key role of Kildare LCDC has been to support the establishment and expansion of services in Kildare. An example of progress made in recent years includes: the establishment of HeadsUp a programme working with men with mental health issues, two new Family Resource Centres in Kildare Town and Athy, a new Youth Officer post within the ETB, increased services for homeless people through collaborations between KCC, McVerry Trust and Tusla, prioritisation of ACDAL as a centre for enterprise in North West Kildare. In 2021 work is focussed on progressing services targeting youth mental health including a Jigsaw project.
Covid 19- Community Response
The LCDC forms the basis for the Community Response Forum, a network of over 60 representatives who are working together to respond to issues that exist due to the Covid 19 pandemic. County Kildare Chamber are actively involved in this Forum.
If a member would like to find out more about Kildare LCDC and our representation on the board, please contact our representative Mairead Hennessey (VP County Kildare Chamber) via email mairead@taxkey.ie.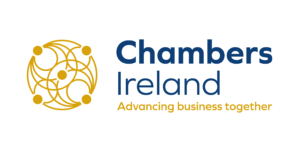 Chambers Ireland Board member and Director
Represented by: Allan Shine, CEO County Kildare Chamber
Chambers Ireland's mission is to represent the interests of member companies; to promote business competitiveness in Ireland and to enable the development of the chamber movement throughout the island. Its main areas of activities are as follows:
Lobbying Government on policy to create a better environment for business
Supporting SMEs
Facilitating trade
Strengthening the Chamber Network
The board meets bi monthly. View the current board HERE. Chambers Ireland is Ireland's largest business network on the island of Ireland. It is the umbrella group for local affiliated chambers. In achieving its policy goals, Chambers Ireland has secured representation on a number of external boards where they push the interests of their members and highlight challenges to businesses. The list below outlines the key forums in which Chambers Ireland are currently represented:
National Economic and Social Council (NESC)
National Competitiveness Council (NCCC)
High Level Group on Business Regulation (HLG)
Advisory Group on Small Business (AGSB
Office of Government Procurement
Retail Consultation Forum
Working Group on Retail and Town Centre Revival
Dept of Taoiseach Group on Brexit
CSR Stakeholder Forum
European Economic and Social Committee (EESC)
DJEI Prompt Payment Committee
Skillnet Ireland
If a member would like to find out more about Chambers Ireland and our representation on the board of Chambers Ireland please contact Allan Shine 045 894074 or via email allan@countykildarechamber.ie