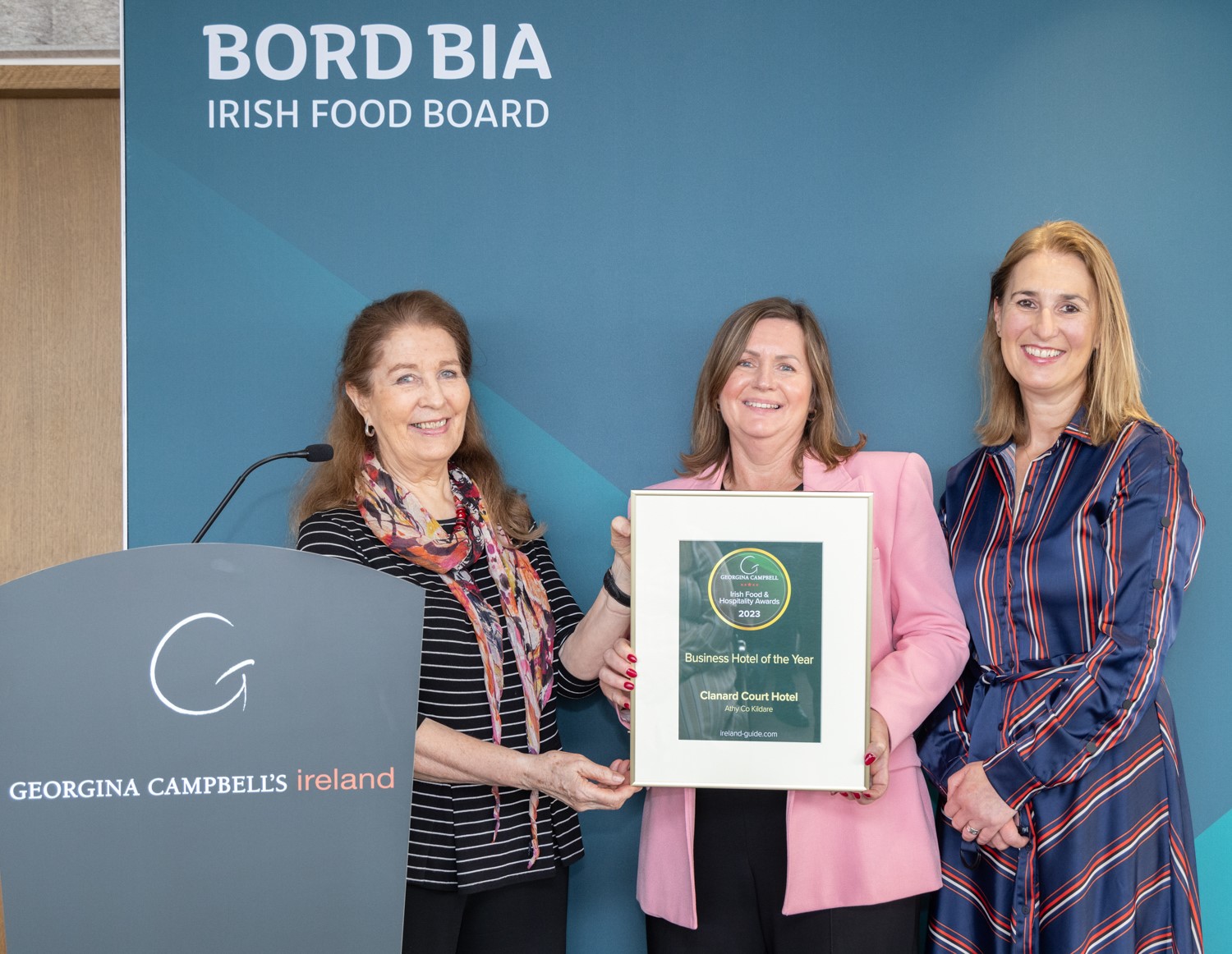 On the 10th of October in Bord Bia, Dublin, the Clanard Court Hotel proudly received the accolade of Business Hotel of The Year from Georgina Campbell for her Irish Food & Hospitality Awards 2023.
Georgina Campbell said:
Arriving at the Fennin family's well-presented purpose-built 4-star on the edge of town is sure to put a smile on your face – how many hotels say welcome with a grassy enclosure where exotic animals like Jacob sheep and alpacas happily graze? While especially famed for weddings, this deservedly popular community favourite is also an excellent business destination, catering for anything from 20 to 450 delegates in a range of suites and offering both indoor and outdoor on-site team building and corporate events, as well as all the latest equipment for conferences and business meetings. Add great locally produced food, super staff, good value and the convenience of the location – only an hour from Dublin airport and easily accessible from any part of the country – and its appeal is very easy to understand.
General About The Clanard Court Hotel
Awards & Accolades
TripAdvisor Travellers Choice 2023 – Best of The Best Ireland / Top 25 #16 (consistently ranked #1 hotel on TripAdvisor in County Kildare)
Georgina Campbell Irish Food & Hospitality Awards 2023 'Business Hotel of The Year'
Great Place to Work Certified & Failte Ireland Employer Excellence 'Outstanding Employer' 2023
Weddings Online Wedding Co-ordinator Winner 2023 Leinster (Emma Ferris)
Weddings Dates 2022 Winner
Green Awards Finalist 2023 – Green Tourism & Entertainment Award
Previous County Kildare Chamber winner
Ownership & Management
The Clanard Court is a family-run Hotel by the Fennin family.
Mary Fennin-Burne is Managing Director mfennin@clanardcourt.ie m: 086 6097393
Eoin Jacob is General Manager ejacob@clanardcourt.ie m: 085 7889981
Mark Phelan is Executive Chef chef@clanardcourt.ie
PR & Marketing Contact
Anna Wood awood@clanardcourt.ie, m: 086 4134909
www.clanardcourt.ie    T: 059 864066     Dublin Road, Athy, County Kildare R14 FY90
Other Information Links