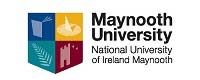 Dear all,
We would like to invite you to CONNECT on Monday, October 23rd in Carton House Hotel Maynooth.
CONNECT 2017 is a facilitated networking event focusing on International opportunities for business development, partnership and investment.
We also encourage you to attend our "partnership workshops" which are outlined in the Programme.
Take me directly to the CONNECT registration webpage
Registration is free but please register early.
Breakfast and lunch provided.
We look forward to meeting you on October 23rd.
Lorraine Kane, MSc.
Ops Manager
Maynooth University Commercialisation Office