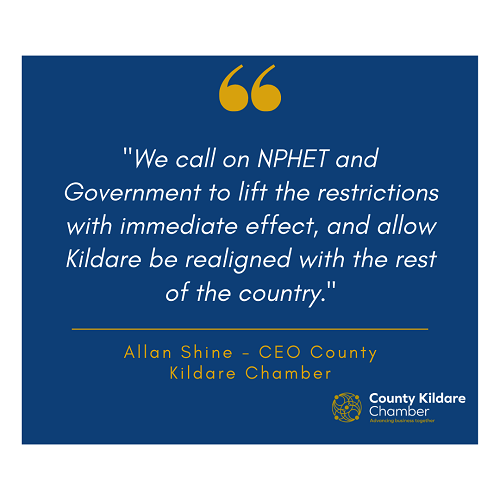 Allan Shine, Chief Executive of County Kildare Chamber, the business organisation representing 400 businesses in the county this evening called for the lifting of restrictions in Kildare:
Allan Shine, CEO County Kildare Chamber
"The number of positive cases over the past few days demonstrates that citizens and businesses in Kildare have done their job.  We have suppressed the virus to a level that requires the lifting of restrictions. Whilst we continue to state that public health is our number one priority, the economy must come a very close second. The restrictions imposed on Kildare are having a devastating impact on the local economy, with many businesses in the hospitality/tourism sector fearful they may not be able to survive the forthcoming weeks and months. We must learn how to live with this virus, and how to allow businesses open until a vaccine is found.
We call on NPHET and Government to lift the restrictions with immediate effect and allow Kildare be re aligned with the rest of the country."