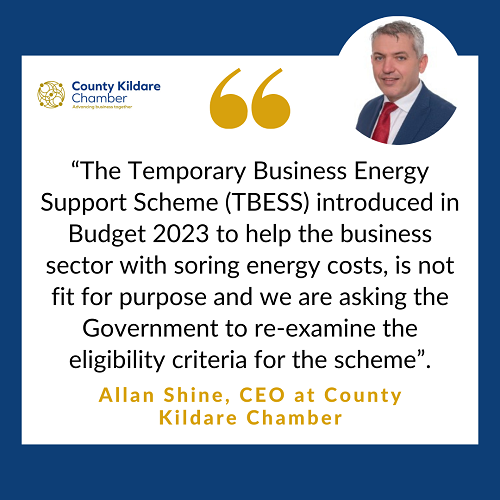 Thursday 9th February 2023
The CEO of one of country's biggest business representative organisations in the country has stated the Temporary Business Energy Support Scheme (TBESS) introduced in Budget 2023 to help the business sector with soring energy costs, is not fit for purpose and is asking the Government to re-examine the eligibility criteria for the scheme.
A recent survey conducted by County Kildare Chamber, with over 400 members employing 42,000, stated that 76% of respondents had been unable to avail of the TBESS. When questioned on why the business could not avail of the support 30% stated the application process was too complex and time consuming for the anticipated payback from the scheme. A further 30% stated their energy costs had not increased enough over the reference period allowed.
This is despite every company recording an increase in energy costs, with 27% of respondents stating their costs had increased by 41-60% over the previous 12-month period.
County Kildare Chamber CEO, Allan Shine who runs the organisation which represents over 400 companies employing over 42,000 people said "In September last, the Government introduced a range of provisions aimed at the business community to help and support the sector through an extremely challenging time. However, as can been seen through this data, the TBESS is not working for the very group it was designed to help. We have seen very low numbers applying with the latest figures saying just 18,700 businesses had registered for TBESS by the end of January, with 11,200 claimed being approved at a value of €22.7 million. That is just 2% of the €1.2 billion budget set aside for the scheme".
County Kildare Chamber believes the scheme needs to be overhauled. We are asking;
The timeframe for applications should be extended to the end of the year, as many businesses who are currently struggling cannot show a 50% increase on wholesale energy costs for the reference period indicated.
With nearly 1/3 of our members stating the application process was too time consuming and complex for the anticipated payback, we are asking that the process be simplified.
The scheme take into account business owners who are not currently covered under the scheme such as those who have moved premises in the last year and those who are currently leasing space from a landlord, both of whom are at present not eligible under the scheme and are facing the same significant increases in cost.