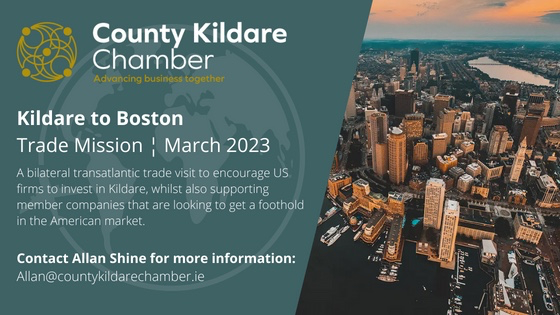 County Kildare Chamber, the business voice for Kildare will lead a trade delegation to Boston next week (Tuesday 14th – Saturday 18th March).
The Chamber has strong ties with the business community in Boston and visit the city annually. While in Boston, the Chamber will host a series of business engagements, including a site visit to Keurig Dr Pepper who recently set up their EU Headquarters in Newbridge. Further meetings are scheduled with both Quincy and Boston Chamber, the World Trade Centre and US political representatives with a particular focus on US-Ireland trade opportunities. The delegation will also meet with Irish Network Boston, the Irish Consulate and the Irish American Partnership.
Leading the delegation is CEO Allan Shine and both the President and Vice President of the Chamber Mairead Hennessy and Brian Purcell. In advance of the trade mission, Allan Shine said, "Leading a business delegation to Boston during St Patricks Week enables the Chamber to meet with key political figures and stakeholders in Boston. Our aim is to promote Kildare and its world-class companies, in Boston as the ideal location for US investment.  We will also meet with Quincy Chamber and City officials who we signed a Memorandum of Understanding with last year".
The Kildare relationship with the City of Boston has continued to grow over the last number of years, with annual trade visits and hosting a delegation from Boston to Kildare last year, to capitalise on this momentum for Kildare.