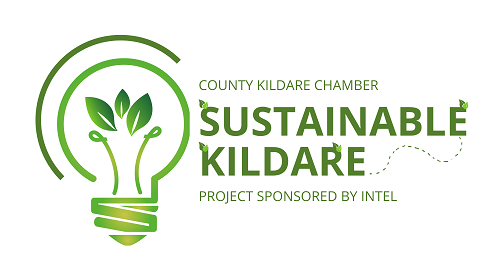 County Kildare Chamber has won the 'Engagement with the Sustainable Development Goals' award at the 2022 Chamber Awards.
The awards, hosted by Chambers Ireland and sponsored by Zurich, recognise the outstanding work of chambers of commerce throughout the country in supporting local, regional and national business.
The award was recognised for the Chambers 'Sustainable Kildare' campaign. Sustainable Kildare is a year-long climate action programme for businesses led by County Kildare Chamber and sponsored by Intel with partners, Global Action Plan and Ducky. The programme is running in 3 stages in the form of an online Championship where businesses can participate and compete with each other by partaking in and logging eco-friendly activities over a 3-week period – an example of these activities might include taking a shorter shower, walking or taking public transport to work instead of driving, or turning off unnecessary lights/ electronics.
These activities are logged on an app known as 'Ducky', which has all the necessary tools to allow businesses to set their starting point by measuring current carbon footprint, attitudes, and knowledge about personal impact & uncover the barriers that prevent change from happening.
The first of 3 championships kicked off in October 2021, the second in February 2022 and the last championship and 'overall competition' where teams from the 1st and 2nd round can take part, kicked off at the end of May 2022. To date, between the first two rounds of the programme, 43,596KgCO2e has been saved through eco-friendly activities undertaken by Kildare based businesses.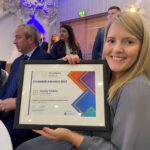 Jennifer Forster, Marketing & Communications Manager at County Kildare Chamber said:
"We are delighted to win this award and it is fantastic recognition for the work put in by the team in the Chamber along with our strategic partners in Intel and all the businesses in Kildare who took part in the sustainability challenge over the past 12 months.
The work undertaken in this project encapsulates everything we do at the Chamber. It highlights how, by engaging people through the power of an interactive app developed specifically for businesses we can make a measurable, vital difference in our community.
This award motivates us in the Chamber to do more in the area of sustainability and for us to lead by example and demonstrate how businesses can play their part in the global crisis we face in regards to climate change."
For every company that participates in the challenge, two trees will be planted, one in Kildare on the grounds of Barretstown Castle (a not-for-profit camp for children with cancer and other serious illnesses), and one in Tanzania where trees are so desperately needed, which will ensure a lasting carbon legacy from the project.