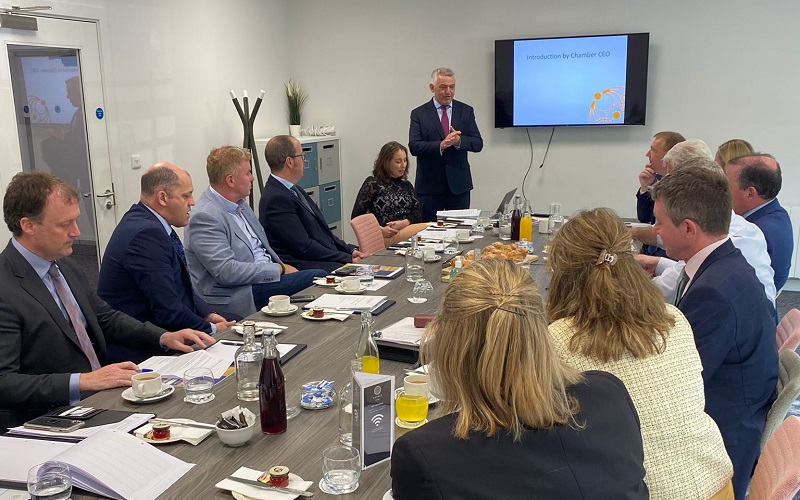 Today (Monday 31 July) County Kildare Chamber launched its Budget 2024 submission. The Chamber put forward its recommendations to Government focused on housing availability with measures to increase capacity, infrastructure delivery, energy certainty and sustainability.
County Kildare Chamber is the business organisation in Kildare, proactively working to identify and progress developments that are facilitative of economic and sustainable growth.  Representing an employer base of 400 businesses and over 38,000 employees across the county, County Kildare Chamber is the largest business organisation in the mid-east region of Ireland.
Given the significant breadth and depth of our membership, and our representation on various bodies at local and national level, County Kildare Chamber constitutes the representative voice for business in Kildare, a particularly important role given the current economic climate in the county and the state.
Following extensive consultation with our members and the Chambers Policy Advisory Council, our submission has focused on 4 main areas within the confines of Budget 2024;
1)           Housing
2)           Infrastructure
3)           Economic Development & Employment
4)           Energy & Climate Action
Sinéad Ronan, Public Affairs Manager said today, "Budget 2024 comes at a time of increased financial pressure and uncertainty for businesses and consumers. As a business organisation, County Kildare Chamber believes that long term planning for the development of the Country is essential in responding to the challenges presented by housing & skills shortages, climate change, Brexit, and the current crisis in Europe.
This budgetary submission emphasises the significance of ensuring adequate housing supply, investing in infrastructure and skills, and implementing measures to enhance business competitiveness. These priorities reflect the urgent need to support businesses, address capacity constraints, and navigate challenges affecting economic growth and sustainability in the Kildare region.
Many of the problems we are experiencing in these areas, arose from a decade of underinvestment which afflicted the economy in the post Great-Financial-Crash era. Delivering on the much-needed infrastructure solutions during a time of increasing costs will be extremely challenging but is also essential for the future prosperity and success of Kildare, its communities, and businesses".
You can read County Kildare Chamber's full Budget 2024 Submission HERE.