Chamber President Luke Hanahoe and I had a meeting on Monday afternoon with An Tanaiste Leo Varadkar TD. The hour long meeting allowed the Chamber to inform the Tanaiste of the pain and anguish that many of our members are currently facing with this enforced lockdown.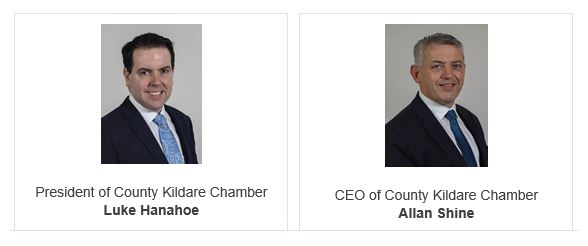 Discussions included a range of "Support Package" solutions for our members that included:
Maintaining the current TWSS of €350 per employee for a further 3 months (decreases to €203 from 1 Sept) for businesses that are eligible.
Extending the Bank Moratorium for a further 3 months for businesses affected in the lockdown counties.
A % rebate for businesses on the Gross Profit Tax returns, and the % will be applicable to the months a business is closed.
Yesterday evening I had a conference call with An Taoiseach Micheál Martin TD to discuss the lockdown restrictions imposed on Kildare, Laois and Offaly.
It was a very constructive meeting discussing the support packages required for business in the region. The Taoiseach reassured me that all government departments are working to ensure the lockdown will not be extended, he is willing to engage further with the Chamber and most importantly stated that at this present moment they do not envisage a lockdown extension which is very encouraging. This of course may change as the days pass. The Taoiseach also confirmed that any "Support Package" for Kildare, Laois and Offaly is being carefully looked at/ reviewed as it will need to be potentially replicated in other counties.
Last night I had a call with the Minister for Public Reform and Expenditure Michael McGrath TD. A very encouraging call in regards to the support package that will be announced later this week for Kildare , Laois and Offaly. We agreed to talk again on Thursday to work on specific proposals for the Tourism, Hospitality and Leisure Industry in regards to financial supports.
We are trying to organise a meeting with Minister for Media, Tourism, Arts, Culture, Sport and the Gaeltacht – Catherine Martin TD. I hope to make contact with the Minster today.
Daily calls also with Minster of State Martin Heydon TD, James Lawless TD and Senator Fiona O'Loughlin who are extremely helpful and are working tirelessly on behalf of business in Kildare.
I have also had calls with:
Several local Councillors, Senator Mark Wall and Vincent Martin
Minister of State Department of Enterprise, Trade and Employment, Robert Troy TD and Louise O'Reilly TD
Daily calls with Minister of Agriculture, Dara Calleary TD.
We are in hourly contact with our membership as this lockdown evolves. We remain committed to ensuring we represent our members.
The concerns of business are being heard, we have collated all correspondence from our members and are lobbying hard with the Government parties. We acknowledge that whilst Kildare, Laois and Offaly are currently facing restriction, this situation is evolving and further counties will face lockdowns. This makes it extremely hard to secure targeted grants for industries currently affected by this lockdown.
The fear that this lockdown will be extended is very real and we urge our members and their workforce to adhere to all HSE and Government advice.
The Chambers media coverage since the announcement of this lockdown
on Friday has been exceptional, promoting these issues on both a national and international level.