County Kildare Chamber, the business organisation in Kildare representing 400 businesses that in turn employ 37,000 in the county, has said that today's announcement by Government of a temporary wage subsidy scheme will ensure that the economy will be ready to reignite once this pandemic crisis hitting the country comes to an end.
County Kildare Chamber has been in continuous dialogue with Government in recent weeks and has called for many of the announcements made today.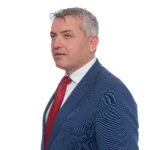 CEO of the Chamber Allan Shine said this evening, "The announcements made by Government today are prudent, the business community are united in working together to ensure we meet this unprecedented health challenge head on. Businesses have sighed a breath of relief with the support subsidy scheme announced today. We have a huge amount of vulnerable companies who are now enabled to keep their doors and businesses open by todays statement . Our survey results announced today show that 94% of businesses state that their revenue will decline over the coming three months and that cashflow, revenue, and staffing are the critical issues for businesses. We call on our elected local TD's and Government to engage daily with the Chamber network as we are the only business organisation in Ireland that have a business membership base in every village, town and city in Ireland".
Shine concluded by saying, " Kildare businesses are resilient, our workforce is resilient, we commend the Government with their actions to date and we will continue to ensure that voice of Kildare business is heard at national level".