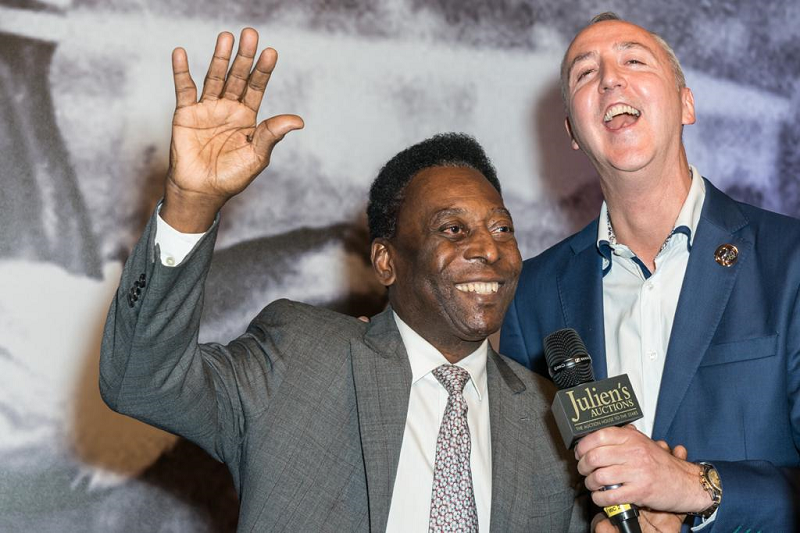 Newbridge Silverware, home to the Museum of Style Icon's has paid tribute to Pelé, the world's most famous footballer and one of the most iconic athletes of all time who sadly passed away yesterday (29th of December) at the age of 82.
In 2016 the County Kildare based Museum of Style Icons hosted a special exhibition dedicated to the life and works of Pelé in advance of a major auction featuring a host of the football star's personal possessions.  Los Angeles based Julien's Auctions brought the property to auction, in all some 2,000 items including the Brazilian star's three World Cup winners' medals and his own Jules Rimet trophy were amongst the many artefacts which went under the hammer.  This historic auction also included football shirts, boots and countless awards and mementoes.
William Doyle, CEO of Newbridge Silverware said, "It's impossible to underestimate what Pelé did for football and for sport worldwide. He was a global icon, a man who was loved all over the world and whose legacy will be remembered forever. We were very fortunate to have had his property on display here at Newbridge Silverware and are grateful to Darren Julien and to Martin Nolan of Julien's Auctions for bringing it to us in 2016."
13 of the most iconic and important pieces of property came to Newbridge Silverware in advance of the auction which ultimately raised over €5 million.  The star who was known for his generosity donated a portion of the auction proceeds to the City of Santos and to Pequeno Principe, the largest paediatric hospital in Brazil.
Roscommon native, Martin Nolan, the executive director of Julien's Auctions who organised the sale said, " Pelé grew up in poor circumstances in Brazil and never forgot his humble beginnings. He was always mindful of the poor and spent his life trying to help disadvantaged children and to be an inspiration for young people."
Martin Nolan and his business partner, Darren Julien of Julien's Auctions first met Pelé in New York in 2015 after the duo auctioned property belonging to Ringo Star.  Pelé said he would like to do something to help raise funds for charity and expressed his interest in auctioning his own personal possessions.
"We just couldn't believe it when we saw all the items he had carefully stored and collected, he had kept everything, it was like a museum, it was truly incredible.  So, when it came to preparing for the auction, we were just completely blown away by the sheer number of items he had carefully stored. We got something like 58 crates from Brazil, it was just unbelievable! He had some in his house, some of it in a museum; he has a place in New York and some of it had been there. It seemed to us that anything he got, he minded and minded really well. There were so much interesting pieces we knew we had to bring it to Newbridge Silverware to allow Irish people the chance to see it before we auctioned it.  The exhibition was very successful, and a huge number of people came to Kildare to visit it. Pelé loved Ireland and George Best and was delighted that the property went on display here, he was very proud of that exhibition."
He went on to say, "Pelé's personal Jules Rimet Trophy was the star of the exhibition at Newbridge Silverware. When Brazil won the World Cup for the third time in 1970, the federation got to keep the trophy but the Mexicans (who hosted the tournament) and Fifa got together and created a special Jules Rimet trophy for Pelé, the only player to feature in all three wins. No other player got one. Sadly, this trophy was stolen from Pelé in recent years.
Pelés 1970 World Cup winner's medal was also a big highlight of the exhibition at the time which featured all three of Pelé's world cup medals."
Martin Nolan is based in Beverley Hills where Julien's Auctions are known as the number one auction house for music, sport, and movie memorabilia. A native of Roscommon Martin has been behind the sale of some of the world's most important cultural and historical pieces of celebrity property including the famous  Marilyn Monroe Happy Birthday JFK dress.
The Museum of Style Icons is based at Newbridge Silverware in Newbridge, Co. Kildare (Ireland). It is a free to enter museum and is open 7 days a week.  The museum is home to permanent exhibitions featuring garments and personal items from stars including Elvis, Marilyn Monroe, The Beatles, Audrey Hepburn, Kim Kardashian and Princess Diana among many more. For more see www.newbridgesilverware.ie