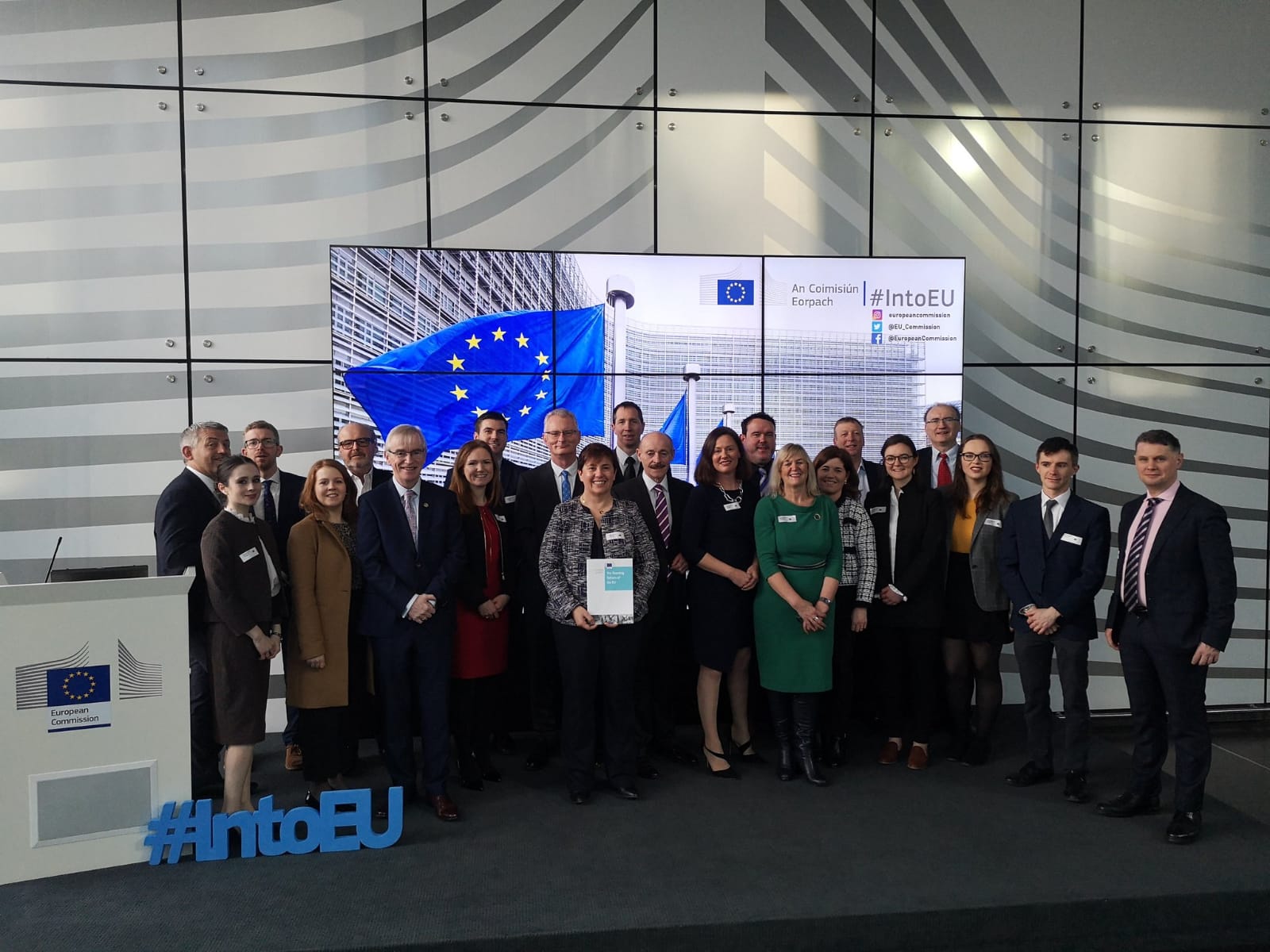 At the outset of President Von der Leyen's Commission Presidency, Chambers Ireland organised an excellent delegation visit from our Network of 40 Chambers to Brussels, meeting with EU officials to set out the priorities of Irish business during this new legislative term.
Chambers Ireland Chief Executive, Ian Talbot, noted the extraordinary economic impact the EU has had on Ireland.
"In the last decade, the EU was tasked with addressing the impacts of the financial crisis. The next ten years pose very different set of challenges, where we must decarbonize the economy and invest in our cities and regions so that they are adapted to a net-zero carbon future.
There are many opportunities for Irish business through proactive engagement with the EU, but Brussels legislators must also be cognisant of the impact that wide-reaching regulation can have, not only on small companies, but small economies. The visit gave County Kildare Chamber the opportunity to hear first hand the progress the EU are making in regards to the climate crisis we all face, an update on current and future trade deals, a meeting with our Irish MEP's and a very in-depth discussion with the Irish Perm reps to the EU on what matters most to Ireland in Brussels and the work they are focusing on currently.
Tuesday, 21 January 2020
11:15 Welcome from Marga Espino, DG Communications
11:30 Meeting 1: Brexit – Thomas Liefländer (Taskforce for Relations with the UK)
12:15 Meeting 2: EU Trade policy: SME & Trade – Laurent Javaudin (DG Trade)
13:00 Lunch at the Visitor's Centre at CHAR Canteen
14:30 Meeting 3: Green Deal and Sustainability Agenda – Quentin Dupriez (DG Clima)
15:45 Meeting 4: EU Economic and Fiscal Policies – Declan Costello (DG ECFIN)
18:00 Drinks reception and Networking Event, hosted by Eurochambres at
Hôtel de Ville Bruxelles
Wednesday, 22 January 2020
08:00 Meeting 1: Breakfast Event with Irish MEPs – hosted by Sean Kelly MEP
11:00 Meeting 2: Commissioner Hogan's Cabinet members, Sean Tynan & Dermot Ryan, at European Commission Berlaymont building.
12:30 Networking lunch at Le Grande Centrale with Micheal O Conchuir (Committee of the Regions), Teresa Lennon and Agata Kolodynska (Irish Regions European Office)
14:00 Meeting 3: Irish Permanent Representation to the EU, Susan O'Reilly & Eamonn Mac Aodha