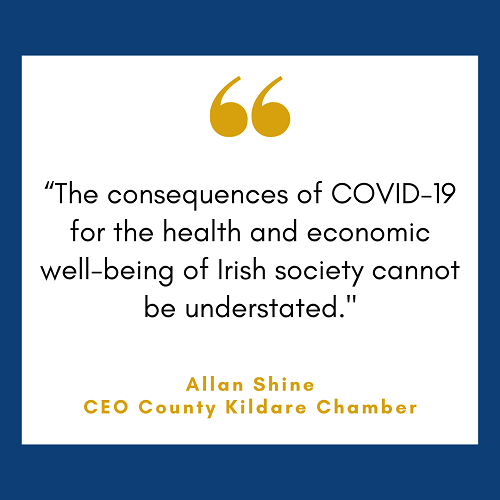 County Kildare Chamber this morning (15 January 2021) welcomes the publication by Tánaiste Leo Varadkar of the National Remote Working Strategy "Making Remote Work". The report commits to an acceleration of the National Broadband Plan, investment in remote hubs, reviewing tax treatment and introducing legislative changes on rights to request remote working.
Speaking this morning, Chief Executive of the Chamber Allan Shine said:
"The Strategy is an ambitious vision for the future of work in Ireland and the potential to transform the workplace into one that supports quality of life, inclusion and regional development. We welcome the alignment of the Strategy to other key government policies such as the National Economic Plan, the Climate Action Plan, the Town Centre Living initiative, and the forthcoming Sustainable Mobility Policy.
Of particular importance to our members is the commitment within the report to examine the acceleration of the National Broadband Plan and develop a National Hubs Network. The experience of the pandemic means that it is more important than ever that we ensure rapid delivery of high-speed broadband throughout the country.  We look forward to the opening of MERITS in Naas (Mid East Regional Innovation Think Space) which will house once completed a cluster of HPSU's primarily in the tech space. Further innovation hubs will soon be rolled out in the region and we in the Chamber have recently invested over €30,000 in our iHub which has the capability of housing 13 start-up businesses.
Remote working paired with a National Hubs Strategy, could play a transformative role in reviving our towns, villages, and urban centres. We particularly welcome the commitment to align hubs with childcare provision and access to public transport.
The consequences of COVID-19 for the health and economic well-being of Irish society cannot be understated. It is likely that we will be living with the destructive impacts of the pandemic for some time to come. However, with vaccinations in sight, it is important to look to the future and the legacy of our experience with the pandemic. The Department's Remote Work Strategy is an ambitious set of targets that could have a transformative impact on labour participation, quality of life and regional employment. We look forward to working with Government over the coming months as it is implemented."