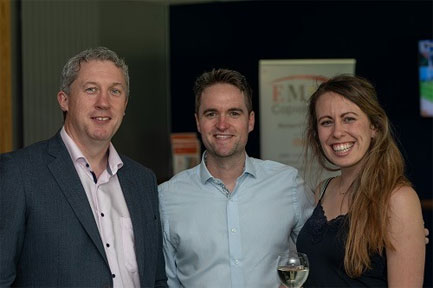 Things go better when Athy Concentrates!
The first in a series of monthly 'First Friday' lunchtime networking meetings for businesses located in the Athy Municipal District was held last Friday in the Clanard Court Hotel boardroom. The event was co-chaired by Adrian Conlan, of the Athy Enterprise Network and Vivian Cummins, Athy-based President of the North Kildare Chamber of Commerce.
The Athy Enterprise Network is made up of representatives of the Athy Lions Club, Athy Enterprise Company, Kildare County Council and Kildare Leader Partnership. Adrian Conlan explained to those present, "The 'First Friday' event came about as a result of one of the main recommendations in the Athy Regeneration Plan, commissioned by the Athy Enterprise Network and published late last year. It advised that an ongoing enterprise awareness programme should be organised as a monthly structured event to encourage Local Enterprise and Commerce. Vivian Cummins added, " The Chamber runs similar successful events in Naas and Celbridge and we were more than happy to see how we could help out in the Athy area."
Over 30 South Kildare companies were represented at this first meeting including large scale employers such as Tegral, multi-site operators such as K-Leisure and Quinns Agri-stores through to sole traders. The Athy Municipal District stretches from Ballitore to Castledermot and Monasterevin with Athy towards its centre.
Val Hibbits, Operations Manager and Tom Malone, HR Manager of Athy International Concentrates gave a presentation on the firm's historical involvement with Athy since 1973 and outlined some of its current Corporate Social Responsibility projects in the South Kildare area as well as hints on how to get the secret formula for the Coca-Cola concentrate which is manufactured in Athy!
The Local Employment Services and the Kildare Leader Partnership were also in attendance with details of a 'Pop Up' Employment Information Fair being held this Thursday from 11 am to 3 pm in the Athy Community Arts Centre.
The 'First Friday' followed another well attended Athy Enterprise Network event on the previous evening in Bradbury's on Leinster Street when over 50 people heard details of Kildare Co. Council's new Shopfront and Town Centre Improvement Grant. Sonya Kavanagh, Acting Director of Services for Economic Development, Enterprise and Corporate Services described how Co. Councillors had set aside a substantial sum of € 250,000 to financially assist and support independent business owners to improve the appearance of their shop fronts or commercial properties throughout Co. Kildare.
She explained, "The funding is being provided in recognition of the fact that a building's facade makes a big impact on our townscapes.  They help form people's first impressions of a town centre, so their condition can really affect a town's image.  Smart shop fronts will make a town feel more prosperous, improve its image and contribute towards a stronger sense of identity.
Proposals for funding do not have to involve a significant or expensive change.  Simple jobs like repainting a shop front or seasonal window dressing may qualify" she concluded. Full details of the scheme are available on: www.kildare.ie/countycouncil/Business
The next 'First Friday' Athy Municipal District business networking event will be on 4th March 2016. Similar Chamber of Commerce get-togethers are hosted in Newbridge (Tuesdays/monthly), Naas (Wednesday/weekly) and Celbridge (Thursday/fortnightly).
Further details:
Vivian Cummins     087 2345 746
Adrian Conlan          087 256 8435
William Quinn (Quinns Agri-foods), Alan Wright (Polylok)
Jim McGuinness (ESTA M+S), Mick Osborne (Co. Kildare Leader Partnership), Steve Gormalley (Tegral)
Vivian Cummins, President North Kildare Chamber, Tom Malone (HR Manager, Athy Intl. Concentrates) Allan Shine (CEO, North Kildare Chamber), Val Hibbits (Operations Manager, Athy Intl. Concentrates)