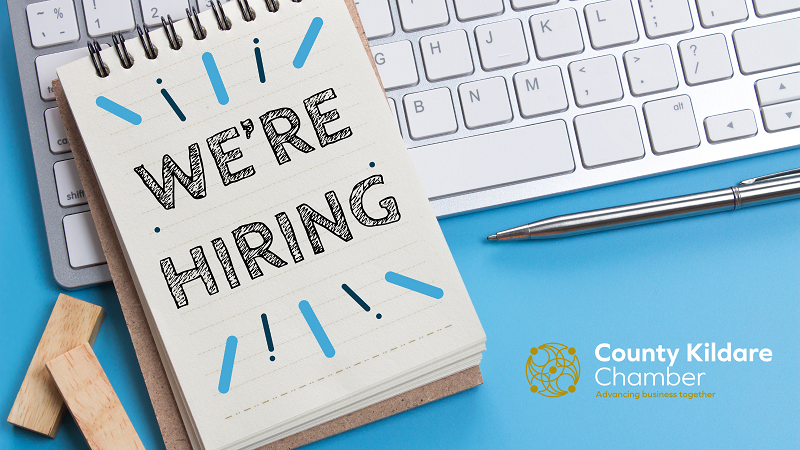 County Kildare Chamber are hiring a Membership Services Executive to join our team.
The Role
The Membership Services Executive role, is a role which covers a wide range of activities including active member management & retainment, CRM management, managing customer engagement channels and supporting business opportunities. You will be responsible for generating ideas on building relationships with existing members as well as assisting with events and promotions throughout the year.
This is an opportunity for a focused, organised and proactive individual who can work with multiple stake-holders within and outside of County Kildare Chamber.
Key Responsibilities
As a key member of the Chamber team, you will be responsible for:
Making calls / organising face to face meetings with members to update them on upcoming events or activities in the Chamber
Establish and maintain strong relationships with members
Assist and support all areas of the business to build campaigns targeting specific events, activities and promotions to drive participation and retention of members
Content and communication planning with Marketing Manager for County Kildare Chamber and it's events, learning, awards, research etc
Develop and utilise County Kildare Chambers online channels for communication
Responsibility for updating and maintaining Chamber CRM system
General administrative duties/ tasks as assigned on an adhoc basis by CEO throughout the year
Skills & Experience Required
The right candidate should have:
Minimum relevant undergraduate degree in Business/Marketing/IT or any other relevant subject
Possess 1-2 years of B2B sales/marketing/business development experience in a service environment
Be comfortable and proficient in prospecting and closing sales over the phone
Proven track record in delivering sales
Drive, ambition and eager to learn
High level of attention to detail
Enjoy working in a fast paced environment with the ability to be flexible in a changing environment
Good team player but also demonstrate the ability to work independently
Polite and professional manner
Excellent interpersonal, verbal and written communication skills with the motivation and drive to succeed in all the tasks undertaken
Excellent IT skills including MS Office.
The right person should be able to demonstrate their ability and commitment to a member led organisation. They should be energetic with an ambition to succeed in the role and beyond.
Location:                           Naas Town Centre, Sallins Rd, Naas, Kildare
Proposed Start Date:       Immediate
Salary:                               €35,000 – €40,000 (based on experience)
Pension:                            Contribution made after 1 year
Includes:                            Parking, Annual Bonus, Hybrid Working
Annual Leave:                   25 days per annum
Terms:                                Full-time and Permanent (subject to an initial probation period of 6 months)
Apply:                                Please send your CV to Allan@countykildarechamber.ie
–