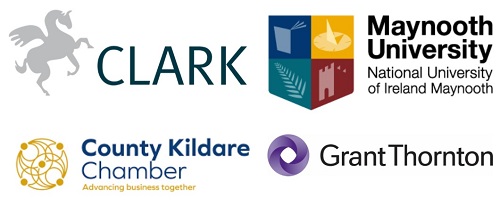 Working collaboratively Clark, Maynooth University, County Kildare Chamber and Grant Thornton have come together to gather information on the world of work including talent resourcing, skills, work arrangements and future trends for business.
To shed light on how the world of work and talent resourcing is changing, we have designed a survey specifically focusing on the M7 corridor and surrounding areas. We would really value your view, input and experience.
This year, we have added to the survey a section on remote work arrangements.   As organisations gain prolonged experience of remote working, extending these arrangements seems increasingly feasible.   We often hear how organisations are re-considering earlier plans to return to the office but seek additional data to better understand their options.  Therefore, this year we hope to provide you with a detailed overview of remote work arrangements, supports in place for remote work and how this impacts line managers and employees.  We still have so much to learn about remote work and learning together is an essential step in helping our organisations make informed, successful decisions.  Please be assured again that the survey is confidential.  We recognise that adding this section lengthens the survey, however, we are very keen to learn more about your experience of remote work so that we can understand and share collective experiences across our community.  We hope that shared awareness of the value of accessing timely and relevant trends relating to remote work will encourage full responses and we ask that you please complete the survey in full by Monday 31st January 2022.
Confidentiality and ethics:  Please be assured that your individual response will always be anonymous. This survey adheres to the highest research ethics standards and complies with all GDPR requirements.
What will happen to the results? On completion of the research, the data will be retained on the Survey Monkey server and aggregated and anonymised research results will be made available to you on request and via our website www.clark.ie.
I have read and understand the information provided to me about this survey. By clicking on the link below I am declaring my consent to proceed with the survey.
https://www.surveymonkey.com/r/WorkforceSurvey2022
If you would like any further information you can contact Deirdre Coghlan Murray, Managing Director Clark 045 881888 or email deirdre@clark.ie
Please do share this survey with your colleagues and other interested parties.