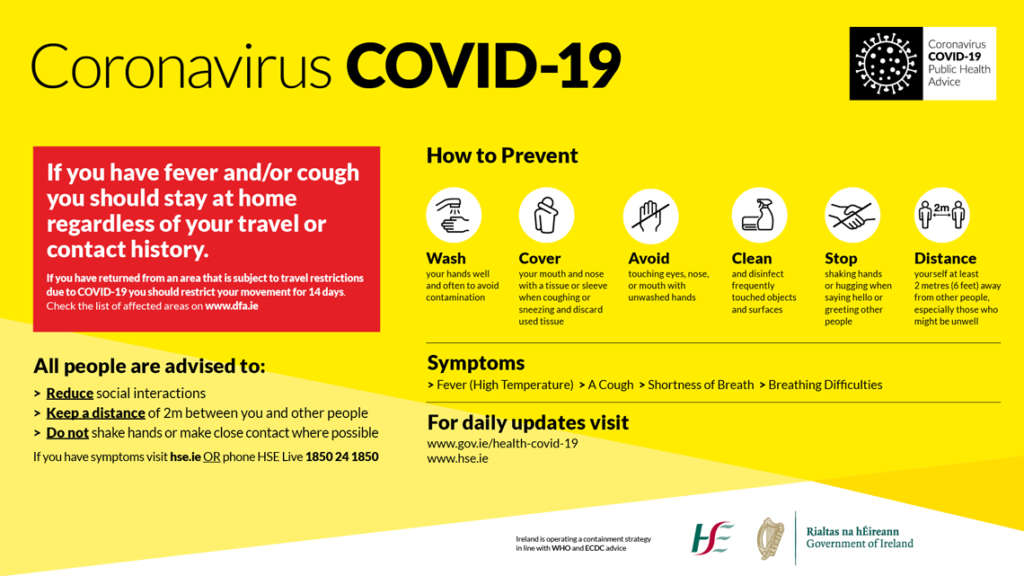 In addition to being a public health concern, COVID-19 has the potential to cause a significant and disruptive impact on business. Chambers Ireland has compiled a list of key resources for Business from Government Departments and Public Bodies. We are encouraging business leaders to read through the important and supportive Covid-19 Information for Business.
Read more HERE!
How our members can help….
Tech Support/ Working Remotely
ITM Tech – Remote Business Contingency Planning
LogMeIn – Remote Working Tools
Monread CRM – Remote Working Tools
Cloudtech – Distributed working solutions for business
Cloudtech – Covid19: HSA Back to Work Protocols
Kendlebell Naas – Telephone Answering Service
Insurance
Campion Insurance – Covid19 Supports
Financial / Tax Support
Grant Thornton – Responding to Covid-19
Permanent TSB – Mortgage Payment Breaks
Bank of Ireland – Member Support Numbers
PWC – Succeeding in Uncertainty
Fincas – Business Support Deck
Marketing/ Branding
Frame It Productions – Budget Focused Marketing Options
Elevate Marketing – Marketing Supports
Punctual Print – Covid-19 Safety Signage
Big Picture Communication – publicise your offering
Donovan Printing – Essential Printing for Business Services
Job Vacancies/ HR Support
O'Brien Fine Foods – Now Hiring!
Noel Group – Temporary Staff Now Available
Curran HR – HR Advice & Live Solutions
Clark – #KeepKildareWorking Initiative 
Aspire HR – Working from home report
Health & Safety
EDS Covid19 Officer Training 2020
Choice Training & Consultancy – Covid19 Compliance Training
For the cabin fever…
Excape Studios – an EXCAPE from these unprecedented times
Supplies
Magnet Marketing Solutions ¦ Hand Sanitizers and Face Masks
SweetSpot Sourcing ¦ Hand Sanatizer, Masks & Protective Suits
Kildare Local Enterprise Office
The Local Enterprise Office are here to support your business in responding to COVID-19. Click HERE for the LEO Response Hub to discover what business supports have been put in place.
Are you a member of County Kildare Chamber and have a support offering for this page?